As of May 2015 this unit is not recommended for new installations. Please see the PLC MINI as the replacement.
SCADAspire PLC 06: The primary PLC of the whole platform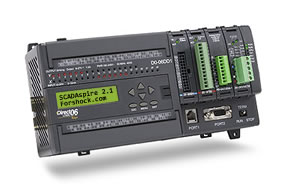 The DL-06 is the primary controller used in our platform and includes every feature we offer. The DL-06 is a very powerful controller with a compact form-factor and affordable pricing. Included in the standard SCADAspire PLC 06 is twenty (20) input and sixteen (16) output discretes, eight (8) 0-20mA 16-bit analog inputs, eight (8) 0-20mA 16-bit analog outputs and a 10/100MB Ethernet communications card.
In addition, custom layouts and requirements can be easily integrated. Including 0-10V, 0-5V, RTD, thermocouple, additional discrete I/O and communications cards to fit nearly every requirement. Contact us to learn more about custom setups and requirements.
Local and Distributed Control
Realtime VFD Controls
Time-of-Use / Off-peak Lockout
Intrusion Detection and Security
Totalizer Functions
Site Lighting and DVR Control
Emergency Motor Stop
Operator Notification
Feature List
The ability to control and monitor your pump or motor should not be a linear, simple on-off system, but a full featured and automated control system. Integrating speed control, level monitoring and conditional monitoring to automatically control your pump for efficient, safe and reliable operation.

Settings can be inserted into each controller to maintain tank/vessel levels, sustain system pressure and more without constant operator interaction. Additionally, setpoints can be set to force an "emergency "stop" of the motor or pump for conditions such as high or low pressure, temperature or level.

Protecting sensitive and costly equipment on your site with a dedicated security system can introduce additional monthly costs and equipment purchases. Integrating security into the controller allows for internal mitigation practices to prevent false-positives from reaching emergency service such as police or sheriff.

Connect industry standard motion, door and other intrusion detection devices such as passive-infrared (PIR), laser beam and limit switches. To help deter potential threats additional outputs can be triggered to start audible alerts, site lighting and video recording systems.

Reducing energy usage is one of the easiest and most effective ways to reduce energy costs for any system. With the ability to control variable-frequency (VFD) drives for efficient operation, SCADAspire PLC software helps to achieve this.

Many districts are enrolled in energy and cost saving programs offered by energy utilities, such as the Time-Of-Use and Demand Response programs. Inside each unit, a real-time clock monitors the current time and compares this to settings in the Lockout table, preventing operation of pumps and motors during this time.

Accurate measurement of field values is vital to maintain reliable operation of your system. Integrating scaling of raw values to engineering units helps operates view current system states.

Filtering of analog values helps reduce over & under compensation of PID loops and to prevent false alarms in the integrated alert and notification system. Connect multiple measurement devices including mA (0-20, 4-20mA) and voltage (0-5, 0-10V) values.

Notifying operators of potential system problems including alarms, emergency stops and security can increase the safety and reliable operation of your system. Connect external alarmdialers to connect to SMS or pager systems to notify operators.

Standard DL-06 bases include a single 15-pin connector that supports RS232 and RS485 signaling and Modbus, DirectNET and K-Sequence protocols. Using the ECOM100 addon cards, the PLC can connect to Ethernet networks with ModbusTCP and other communications protocols including SMTP (email).

You are here: SCADA & Telemetry > Programmable Logic Controllers (PLC) > PLC 06